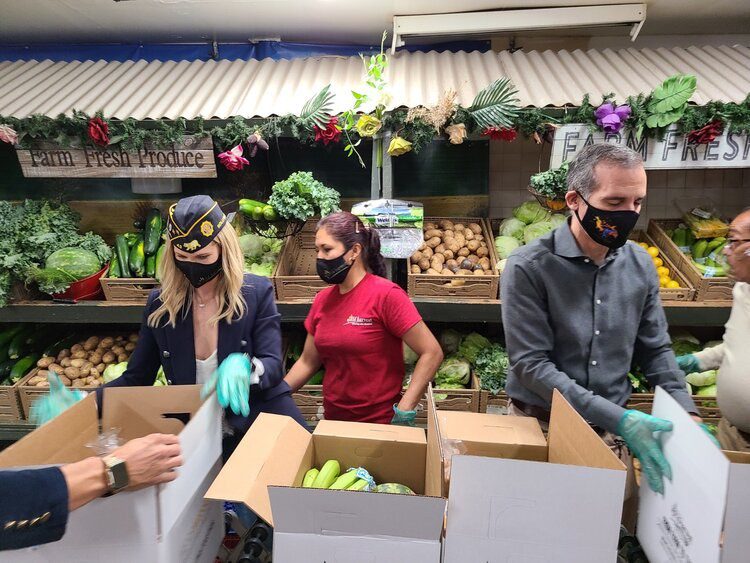 Mayor Garcetti Asks for Support of Veterans, Local Food Bank
LOS ANGELES – To commemorate Veterans Day this year, World Harvest Food Bank has released a short message featuring Los Angeles Mayor Eric Garcetti. The one-minute video highlights Mayor Garcetti volunteering at World Harvest and delivering a message urging Angelenos to consider a donation to the local food bank. The food bank has seen a 300% increase in visitors since the onset of the COVID-19 pandemic and s significant number of their visitors are military veterans. . A link to the video is provided here:
Mayor Eric Garcetti served in the U.S. Navy from 2005 – 2018 holding the rank of lieutenant. Estimates of food insecurity among veterans vary widely, ranging from 6% to 24%—nearly twice that of the general US population.Higher rates of food insecurity have been reported among certain high-risk subgroups, including veterans who served in Iraq and Afghanistan (27%), female veterans (28%), homeless and formerly homeless veterans (49%).
According to recent data, nearly 1.5 million veterans in the US are living below the federal poverty level. An additional 2.4 million veterans are living paycheck to pay-check. Veterans living in poverty are at even higher risk than nonveterans for food insecurity, homelessness, and other material hardship. Moving from base to base forces many active-duty members and their families to rely on a single income since it can be difficult for spouses to find a steady job while moving around so frequently. Even when there are two incomes, it can be hard to pay for personal necessities, including food. For veterans, it can be difficult to find work, especially when coming home with mental or physical disabilities. Even among veterans enrolled in federal food assistance programs, many still struggle to afford nutritionally adequate foods. As one example, in a study of mostly male homeless and formerly homeless veterans, it was found that nearly half of those reporting food insecurity were already receiving federal food assistance benefits, and 22% relied on emergency food resources.
World Harvest is an independent food bank located at 3100 Venice Boulevard, Los Angeles, CA. and is open Monday – Friday 8am to 6pm and Saturday 8am to 3pm. More information at www.worldharvestla.org To make a donation or schedule an interview please contact [email protected]
# # #
Still images, b-roll, interviews and other resources are available to the media upon request.